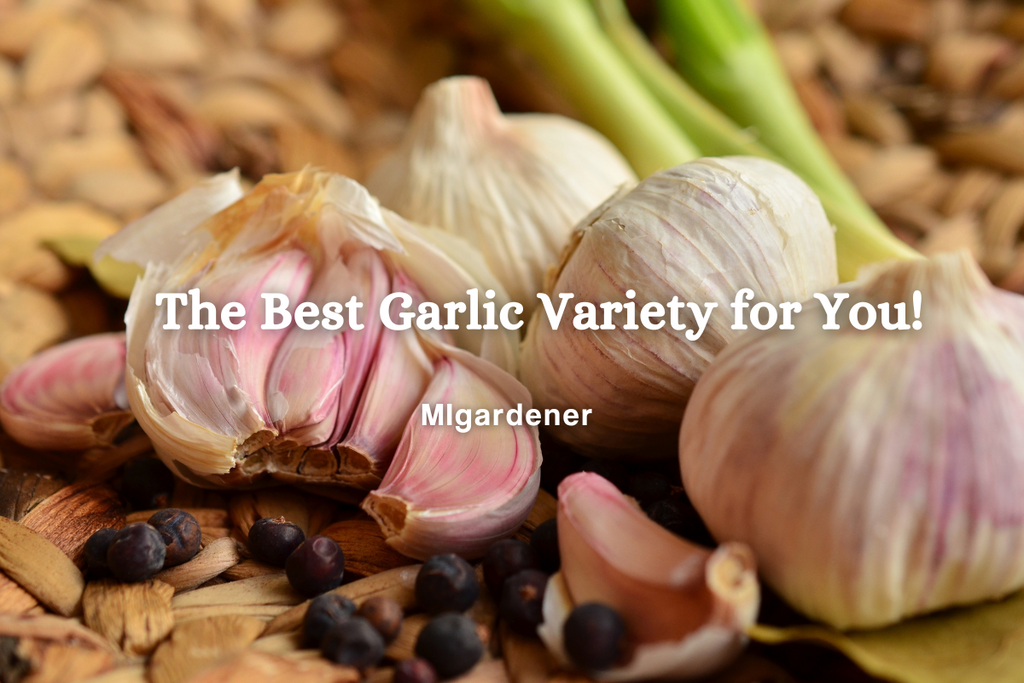 The Best Garlic Variety For You!
Most of us are already starting to see the end of our 2021 growing season. We have our fall gardens sown and are steadily putting up the harvests we have been blessed with this year. If you are like me, underestimating how much to plant, you are nearing the end of your homegrown garlic that you started in the fall of 2020. The last of mine are being incorporated into fire cider, my mom's best-canned salsa recipe and my best friend's canned Italian pasta sauce recipe! I've put a few bulbs to the side for cooking through the winter, though I know it won't be enough!
Through this whole process, I've realized that 'cutting it close' is the understatement of the year in regards to my garlic harvest. I am looking at doubling, if not tripling, what I need to grow for this next season. As I audit my usage and what I plan to use for the next year I decided to really do the research to find the best growing options for me.
So we hear that garlic breaks down into two main categories, Hardneck and Softneck. When I first started growing garlic I took it for face value. Now that I've grown both and have dove into researching the two umbrellas I have figured out that the differences can really make or break your harvest. I hope this breakdown helps you choose what works for you.
Hardneck Garlic
Hardneck varieties are most commonly known for the flower they send-off. Scapes are produced as the bulbs are beginning to form. Mid-season we go through to harvest the garlic scapes telling the plant to put its resources into growing large bulbs. Upon harvest, you will also find that, as the name suggests, the necks of the garlic are sturdy. It is vital to their shelf life, as short as it may be, that the stems have the chance to cure. Most often with hardneck garlic, bulbs produce smaller quantities of cloves but on the other hand, these cloves are often much larger. If you are looking for a larger flavor profile, hardneck garlic is more known for its robust flavor too!
Softneck Garlic
Having the ability to store harvest is vital for many! Softneck garlic varieties typically can be stored for a minimum nine months, with some varieties know to last more than a year. Bulbs of the softneck variety often produce many cloves, in some cases up to 20 per bulb. The cloves are smaller than hardneck varieties but this makes them available in smaller quantities for recipes. Softneck varieties thrive in mild climates and end up doing really well in southern states. Since they mature quicker than most hardneck varieties, growers are able to harvest prior to the extreme heat stunting their plants.
The Hardneck varieties that we will have available this year!
German Extra Hardy originated from, you've guessed it, Germany! Once it made its way onto our shores, German Hardy quickly became a must-grow variety all over the United States. Just because this variety grows in most climates doesn't mean that it is not best suited for selective environmental conditions. As the most in-demand hardneck heirloom variety, it is best grown in the Northern States. German Extra Hardy will really show its size after going through harsher winter conditions. Each bulb produces 4-6 large purple striped cloves, wrapped in bright ivory paper, that are very easy to peel! 
Chesnok Purple Stripe Garlic
Chesnok Red/Purple Stripe is a hardneck variety that was originally cultivated in the Republic of Georgia and brought over to the United States after 1985. These large bulbs produce 9-12 medium cloves that have a paper coating showing beautiful red stripes. The rich sweet flavor holds its own through the cooking process and is sure not to overpower your dish. Chesnok Red is grown well in most climates, from the southern to the most northern parts of the United States. This heirloom variety is known to store longer than many hardneck varieties, keeping its vitality all the way into the next spring!
Persian Star originates back to Uzbekistan. This heirloom variety is a garden favorite with its rich sweet flavor that holds through the cooking process. The Large bulbs produce 9-12 cloves of mild garlic that are easy to peel out of their papery wrapper. The purple stripping on them starts at the root of the bulb and spreads its way up through the cloves. This hardneck variety is great for all gardens! It can be grown in both southern and northern states, and when cultivated well, you will be blessed with a large harvest!
Originally cultivated over in Switzerland, the Amish Rocambole was introduced to the United States around the 1870s. This hardy heirloom variety is known to thrive after a harsh winter. Grown in Wisconsin by the Amish for over 40 years, Amish Rocambole does best in northern climates. The large bulbs produce 8-10 large cloves that are packed with robust garlic flavor! This medium/hot her will bring any dish to life! Unfortunately, this Amish variety is not known for its storage capabilities. We need to either use up our harvest within the first few months or find alternative ways of preserving it for later use!
Making a stop in Canada prior to making its journey to us here in the United States, Music is a hardneck variety that originated from Italy. This heirloom variety has weathered even the toughest winter conditions making it particularly suitable for the northern states, specifically in the Pacific Northwest Region as well as widely grown in most of Canada. Although hardneck garlic is not known for its storage capabilities, Music can maintain its vitality longer than most! Once harvested, this variety will take you through the winter into early spring. This porcelain variety has a robust and pungent flavor and aroma. The bulbs will produce 4-7 large cloves that are wrapped in soft white paper that is easy to peel.
I want to take this opportunity to tell you about a favorite variety of ours that we are still waiting to hear its availability. Our grower had a partial crop failure making it more difficult to secure but hope with us that we get it in! If not there is always next year! We love Duganski hardneck garlic, making it a must-grow each year! Originating from Uzbekistan, this well-cultivated variety is known for its flavor! The cloves have this bold firey flavor that softens as it lingers on your tastebuds. Great for fire cider, and other spicy dishes. Duganski can grow in most climates but really shines in the southern states! With storage life taking us through to the following spring we are always shocked by our harvest! Through the season, bulbs produce 9-12 cloves with purple stripes on the white paper lining.
Softneck varieties that we will have available this year! 
(NEW) The Early Italian Garlic variety produces on average 10-12 large cloves per bulb, with beautiful purple streaks at the base.  The flavor is spicy, making it versatile for several culinary uses from infusing with oils, cooking in soups, to enjoying raw- the possibilities are endless. The Early Italian is known to store up to 10 months when curred properly!
(NEW) Beneath the several layers of silver skins of the Silver Rose bulbs are blush-colored cloves. The flavor is mild and smooth. Each head can have up to 16 easy peel cloves. After several months of storage, it'll be more robust in flavor. Silver Rose can store up to six months. This variety matures later than the average garlic variety, making it a favorite amongst southern growers. Perfect for braiding yet very adaptable to all kinds of growing conditions.
The beauty of Nootka Rose was originally cultivated in the San Juan Islands off of the Washington State coast. As a part of the silverskin cultivar, Nootka Rose is one of the longest storing heirloom garlic varieties. When stored in proper conditions Nootka has been known to surpass a year of storage without losing its vitality! Keeping garlic in a cool area out of the direct sunlight ensures that you will have garlic even past your next successions sowing. The paper of these cloves has a dark pink hue, close to a dusty rose, that will give way to a pristine white bulb. The flavor is strong and is maintained through storage as well. Nootka Rose is the perfect garlic for all climates! It grows well in northern and southern states. 
The history of Inchelium Red is still commonly unknown. What we do know is that this softneck variety's first known location to us was in Washington State. Originally found on the Colville Indian Reservation in Inchelium, this heirloom has been termed the oldest variety cultivated. The deep red striped wrapping is easy to peel from the smooth white flesh of the garlic cloves. In the best growing conditions, the heads can mature up to 20 mid-flavored cloves tightly packed together. As the stem dries out, its strength and malleability make it perfect for braiding to store. Braided garlic will last for up to nine months in a cool dark environment. Like most softneck garlic, the Inchelium Red can be grown in both the northern and southern climates producing a great harvest!
Hopefully, you are now ready to pick out the best varieties for your family to get in the ground before winter! For many of us, it is our first sowing for the 2022 growing year! I love having one thing checked off of my list before winter even starts!
– Halley from MIgardener
Did you enjoy this post? MIgardener is passionate about sharing free gardening tips and information! If you are looking for inspiration in the garden, make sure to check out our Pinterest page. Check us out at MIgardener.com or on youtube, Instagram, and Facebook.
---
22 comments
---
---