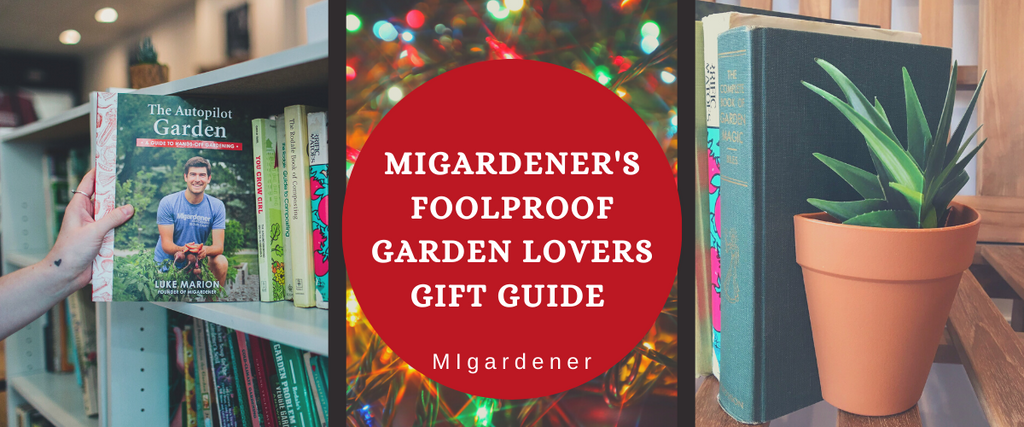 12 Gifts For MIgardener Obsessed Gardeners in 2019
Written by - Kaitlynn from MIgardener 
We all have at least one friend who gardens wherever/whenever possible, even in the dead of winter. The one who can't seem to stop themselves from adopting yet another plant baby. The person who you can call in any plantmergency. The one who's supposedly watched every MIgardener video in existence, from the beginning of time. The truly garden obsessed. 
For someone who knows their stuff when it comes to gardening, it can be tricky to choose something you know they'll use and appreciate. This gift guide goes out to you — the MIgardener Superfan Club. Here at MIgardener, we carry products we love and know to be high quality and long-lasting. A recommendation from us is essentially a guarantee. So here's a quick list of our favorite gardening products, the ones we like so much that we sell in our very own store, in one place for you to discover the perfect gift for your garden obsessed loved one this holiday season. 
1. Hori Hori
This multi-purpose tool is a family heirloom in the making. The perfect gift for any gardener. Use the heat-tempered stainless steel, hollowed back blade for sawing, digging, and slicing. Below the comfortable walnut wood handle is a twine cutter to keep you from rummaging through your garden shed. Made to last for generations, the Hori Hori is a must-have in the garden.
2. The Autopilot Garden
Whether you've watched every MIgardener video or not, this gift would be perfect for anyone of any skill level! Train your garden to practically grow itself with this gardening guide from Luke and Sindy Marion, founders of MIgardener. Instead of slaving away year after year, work smarter (not harder) by strategizing to help your garden become self-sufficient. Learn to break down traditional thinking and implement systems that will save time, hassle, weeding, water, and space wherever you live. Create an organic garden that allows you to enjoy the rest of the season on autopilot. The best gift to get a gardener who needs to find a healthy life/garden balance.
3. New Gloves
It may seem simple, but no gardener will ever be upset by a new pair of gloves! Because of the quality and amazing price point, my recommendation would be these amazing bamboo gardening gloves. I would be delighted to get these in my stocking this year!  They are a perfect size and elasticity for getting into tight spaces in the garden.
4. Clyde's Garden Planner 
The ultimate complete garden planning & planting guide. This all in one tool will help you to gauge when you should be planting seeds indoors or outdoors and when you should expect your first harvest. Layed out on a sliding bar that you can set up by lining up the guide with your average first and last frost date. Ideal for seamless spring and fall gardening seasons. Adjustable for all growing zones. This guide covers all major varieties of annual vegetables including plant spacing, approximate harvest date, and even companion planting. A must-have for any garden planner.
5. Cactus Coasters
Build your own cactus and protect your table at the same time! This adorable cactus coaster kit comes in a pot and six interlocking drink mats that are made from biodegradable natural bamboo fibers. Water and heat resistant. Any plant lover would love this for their house! A fun and funky addition to any housewarming.
6. Garden-Inspired Tote
Save on gift wrapping and give a gift in an adorable tote! This 100% cotton tote bag is perfect for harvesting vegetables and carrying tools or just for flaunting your plant enthusiasm all over town. One of many totes sold on the MIgardener website, and only scratching the surface for what we have to offer in store!
7. Paper Pot Maker
Recycle those old newspapers and put them to good use this spring. The PotMaker makes perfect starter pots for young transplants and seedlings. No glue is required, roll your newspaper and press it into the bottom piece. These eco-friendly pots keep their strength through multiple waterings and root growth. A perfect craft to invite kiddos to help with when it comes time to start your seeds in the springtime!
8. MIgardener Hoodie
Grow Big or Go Home with this incredibly soft, snugly warm hooded sweatshirt that is suited for both men and women. Finding the perfect gifts for gardeners has never been easier with MIgardener apparel! Every one of our hoodies is printed with discharge ink – meaning the lettering will never crack or fade. Provide your Superfan BFF with a gift they can show off!
9. Plant Inspired Can Cooler
Another fun stocking stuffer item for your garden obsessed friend! Whether a house plant lover or a cacti enthusiast, we've got you covered. These hilarious can coolers will be the perfect way to keep their drinks cold when they are out in the garden on a hot summer's day!
10. Plant Pot Bookends
The indoor gardening gift that keeps on giving! Create ever-growing and changing bookends with this fantastic planter set: just add plants. This clever two-pot plastic planter is designed to look like a traditional flower pot split into two. The books are held together by discreet L-shaped metal supports; the pots slide off the supports so that you can water the plants away from your precious books!
11. MIgardener Seed Collection 
Did you know MIgardener has themed seed kits? If you're the garden obsessed friend and are trying to convert the rest of your squad, the First Garden Kit is the perfect gift for newbies!  Everything you need to start a garden except water, soil, and sun! This starter garden kit contains some of our favorite varieties. They are easy to grow, all heirloom, and are classic varieties that anyone can identify! Other kits available are the Asian Vegetable Kit, Artisan Vegetables Kit, Save the Bees Kit and many more!
12. MIgardener Gift Card
You're not a mind reader! Finding the perfect gift for your garden obsessed friend isn't always easy unless you know your stuff! For a gardener, the best gift might just be some money set aside specifically for shopping at their favorite garden shop. Stop into our store if you are local or give an e-gift card if you can't make the trip!
---