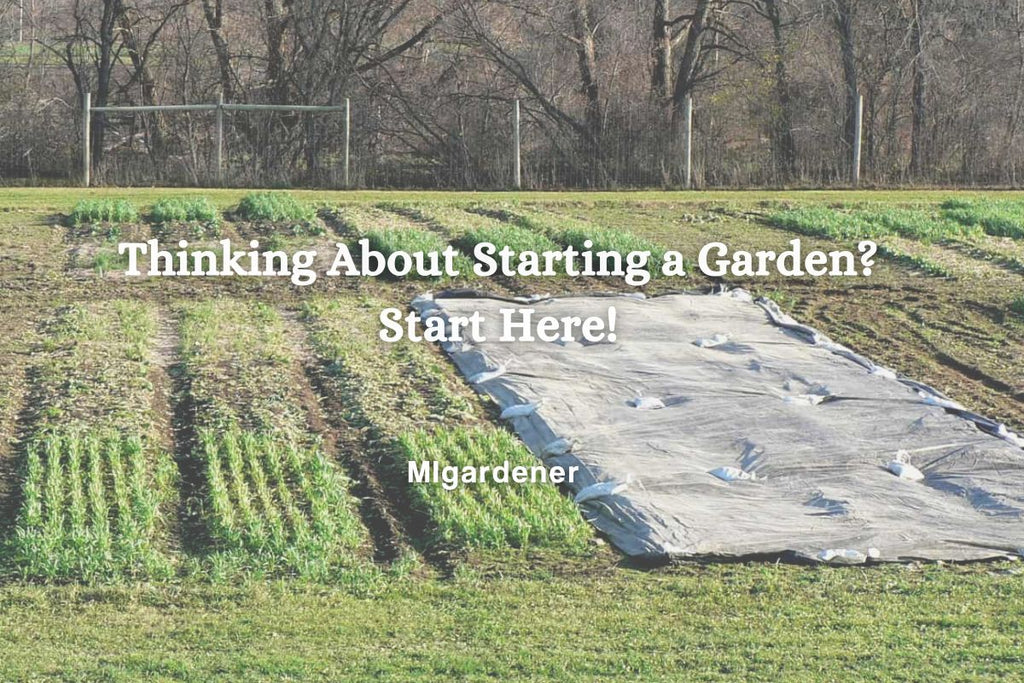 Thinking About Starting a Garden? Start Here!
Want to start a garden but don't know where to start? Start here! 
If you are thinking about starting a garden, there is no better time than now to get one started. A garden can provide therapy, food, enjoyment, and help save money. Regardless of how you decide to garden (raised beds or in-ground), getting a plan in place this fall and winter will be critical to starting successfully in the spring. This post will help you put the right systems in place for spring so you can start gardening sooner, and having more success in the garden. 
(our early spring raised beds with lettuce, garlic in the back, and potatoes up front)
Plot prep
Once you have identified the location that would be best for your garden, the soil where you plan to have a garden needs to be prepped. It is a common mistake to prep the soil in the spring. Here's why. Prepping in the spring usually doesn't happen until after frost has left the soil. Then there is rain that slows down working soil because mud will wear you out and frustrate you. Prepping the plot in the fall will make your life so much easier and the garden so much more enjoyable. 
first, work the soil either with a broadfork or a rototiller. Working soil is important to turning weeds, grass, and organic matter into the soil and starting to break it up. 
Second, once soil has been worked, decide if you want to plant a cover crop or not. A cover crop will add organic matter, prevent weed pressure, and possibly even add nutrients like Nitrogen. 

(cover crop mix from MIgardener)
Lastly, if you plant a cover crop or not, applying tarps to the soil will help to block out sun to discourage weeds and encourage worms to work the soil over fall and winter allowing you to work the soil faster in the spring. 
(This image from Cornell University shows a cover crop being smothered by a tarp. This reduces work from tilling AND weeding.)
Soil Fertility
Soil fertility is critical to growing plants. It is recommended that you do a soil test to ensure you can dial in the Nitrogen, Phosphorus, Potassium, and PH of the soil. Fall is a great time to address these larger issues. It also is a great time to address trace minerals.
(A fist full of compost from our freshly sifted finished compost pile)

In our garden we use Azomite and compost to amend the soil. Once spring arrives, we will use Trifecta+ fertilizer but any all purpose fertilizer will help to increase fertility. 
If you take care of large fertility issues in the fall, the nutrients that are slow to release will become plant available over winter so they are ready in the spring. Most of the work can be attributed to beneficial bacteria and fungi which flourish in organic matter rich soil. 
Garden planning
Every project starts with the planning phase. A garden should be no different. However, I can't tell you how many people I see flying by the seats of their pants every spring and then are frustrated because they become overwhelmed, don't know what to plant, don't know where their garden will be, and it all becomes too much to manage last second. 
(The garden planner from MIgardener)
Getting a garden planner like this one will greatly cut down on your chaos. Knowing what to plant, and when to plant it. Knowing where your garden will be and how big it will be. Knowing when you plan to fertilize, and having a schedule for watering. Good record keeping and planning will reduce confusion and frustration and streamline the gardening process. I implore you to take this time of the off-season to get the garden planned. 
Lastly, one super important thing to remember about garden planning is this: The planning season is JUST as important as the planting season. 
If you can control weeds, have loose workable soil with rich fertility, your chances of a successful garden go up exponentially. Not only will it be easier work, but the work will be much more enjoyable. Grow big and happy gardening! 
 ______________________________________________________________________
Did you enjoy this post? MIgardener is passionate about sharing free gardening tips and information! If you are looking for inspiration in the garden, make sure to check out our Pinterest page. Check us out on youtube, Instagram, and Facebook.
---
7 comments
---
---