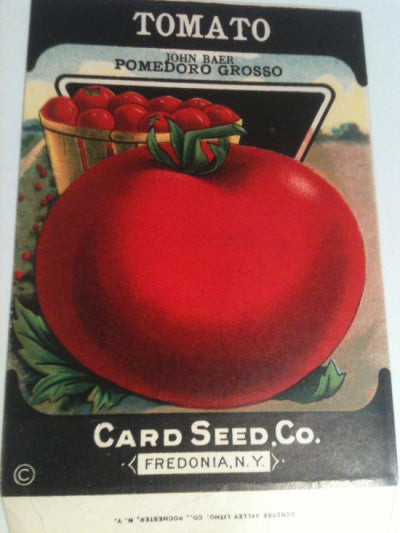 Resurrecting Long Lost Vegetable Varieties
It seems like a horror story for gardeners. How could some of the "classic" varieties, really not be all that classic? Many people who were around in the 40's and 50's know all to well these very flavorful vegetable varieties that were once the staple of the classic home garden. Varieties like "John Baer" Tomato, and "white tip scarlet turnip" Radishes. Where did these varieties go? 
The answer is simple, they went the way of the dinosaur. Sadly, Many varieties were easily replaceable since growers started desiring quantity over quality. This lead to cross breeding, and selective growing to pick the best, most productive and prolific varieties. Natural selection by human force if you will. This lead to many varieties simply being wiped off the map, unheard of after 10 years or so, and replaced by these more productive and economically competitive varieties. 
With losing these varieties, we traded flavor, diversity, and ultimately nutrition for a lesser more inferior product. Simply for a more idealized superior shape... round. Why would a round tomato be any more appealing than an oval, or a flat one? Ask the people who pack them. A round tomato ships better, and is more predictable with size. This way you can make specific containers to hold tomatoes while shipping, This could not be possible with some of the rare and classic heirlooms of yesteryear. 
How many have we lost? 
Some biologists and botanists say we have lost over 90% of the total amount of vegetable varieties. That means that had we not bread any out, lost any, or destroyed any, we would have over 59,000 varieties. 
Is there something you can do? YES
First learn how to save seeds, this can prevent any more from getting lost. Go to garage sales, estate sales, older relatives, and ask them if they have any old packets of seed. Many varieties from the 70's and earlier have been lost, and even if you get one or two to sprout, you can save those seeds, spread those seeds.  This way, even you can rebirth a dinosaur. 
---