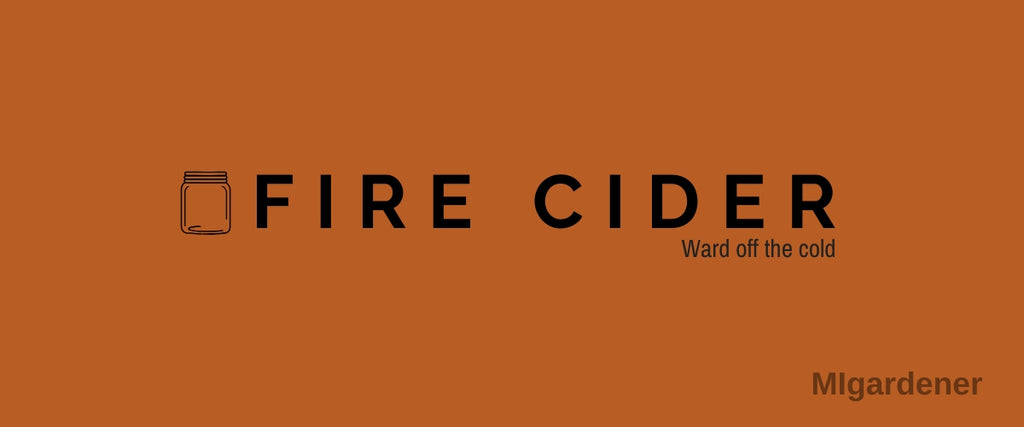 Keep The Cold Out This Winter With Home Brewed Fire Cider!
Written by - Kaitlynn from MIgardener 
Cold season is upon us; you might already be fighting one as you read this! If that's the case for you: look no further. This post will be acting as a gateway for you to learn all about the long-held secret, the ancient tradition, of an herbalist tonic blend that has been passed down for generations (since the early 1980s, that is). For anyone wanting to incorporate a little daily self-care into their lives through a hands-on meeting with mother earth, this post on d.i.y. fermentation will be your one-stop-shop for all things Fire Cider!
What is Fire Cider?:
Fire Cider was the official term for the cure-all blend of vegetables, fruits, herbs, and spices steeped in apple cider vinegar that was created by a Miss Rosemary Gladstar in the early 1980s. This unique ferment packs a spicy, tangy punch that's sure to warm you up during the winter months and keep seasonal allergies at bay in the spring. The variety of ingredients used to make each batch as unique as the person who puts it together, so remember to add your own twist to it! 
[caption id="attachment_329824" align="aligncenter" width="500"]
Image: Homestead and Chill blog
[/caption]
The Health Benefits:
On a holistic level, fire cider has been said to increase circulation, boost the immune system, and act as a probiotic at the same time. Think of fire cider like you would a multivitamin. It's recommended to take a small shot each day or especially during times when you feel in danger of a cold. Some even say a shot of fire cider is the perfect hangover cure! Here are the known health benefits of each ingredient in your fire cider: 
apple cider vinegar - digestive aid
horseradish/jalapeños - circulation and congestion aid
ginger/cayenne - circulation
garlic/onions - antimicrobial
honey - soothes inflammation
Tip: always dilute or chase a fire cider shot with water, in order to avoid potential enamel damage caused by the acidity.
[caption id="attachment_329825" align="aligncenter" width="500"]
Image: Food In Jars Blog
[/caption]
Recipe:
Our friends at Roots and Refuge Farm on youtube put together an amazing video tutorial that we love and will link to below. Their channel is a fantastic source for the homesteading gardener. This recipe doesn't call for horseradish like the original, but if you're brave enough, please add it and tell us what you think! Fire cider is bound to wake you up and adding horseradish will definitely kick it up a notch. Check out the Roots and Refuge channel and show them some love for sharing this awesome recipe.
You'll need:
1 gallon Mason Jar
Ingredients:
1 onion
1/2 cup of fresh ginger
2 jalapeños
6-10 cloves of garlic
1 lemon zested and juiced
1/4 cup rosehips
1/2 cup turmeric powder
1/4 tsp. cayenne pepper
2 sprigs of thyme
1 Q. apple cider vinegar
After ferment: add raw honey.
Chop all ingredients and pile them in the jars artistically (Da Vinci or Pollock style, it's up to you). Pour apple cider vinegar into the jar, completely submerging the contents. Seal with a burping lid. These special lids are the safest and most recommended way to ferment at home. Without them, home fermentation could be dangerous. Let mixture stand for 4-6 weeks, depending on your preference for the strength of the brew. Strain into sealable bottles or jars and store in the fridge for up to 6 months. 
[caption id="attachment_329826" align="aligncenter" width="500"]
Image: Homestead and Chill blog
[/caption]
Conclusion:
Making things like fire cider at home is just one way to take extra care of yourself as the seasons change. Make a day of it! Invite friends over and make a big batch together. Have a tasting party once they finish brewing. Whether you need a touch of warmth for the winter months or something to chase spring allergies away, fire cider will become your new year-round companion. Have you made fire cider in the past? Can you take the heat? Let us know what you think of this post!
Check us out at MIgardener.com or on youtube, Instagram, and facebook.
Main Sources: linked throughout the post
Additional sources: SciShow
---