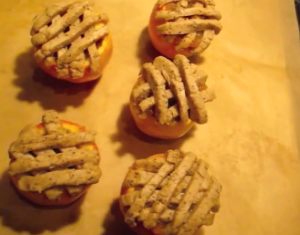 Great Thanksgiving Dessert Idea: Apple Pie Inside Apple
   Apple Pie Inside Apple   
This recipe is not only optional gluten free, but it is vegan, vegetarian, low fat, low sugar, and personal! This thanksgiving wow your guests, create conversation, and make a healthy decision this Thanksgiving. 
Ingredients: 
1. Apples
2. Apple Sauce
3. Cinnamon
4. Pre-made or from scratch Pie crust
  Step 1: Cut tops off apples             

 Step 2: Hollow out apples  

 Step 3: Mix Apple sauce with cinnamon  

 Step 4: Fill Apples with apple mixture  

 Step 5: Place raw pie crust over top of apples  

 Step 6: Place in Oven for 15 minutes at 300*F 
 Step 7: Enjoy!  

                                            HAPPY EATING!
---