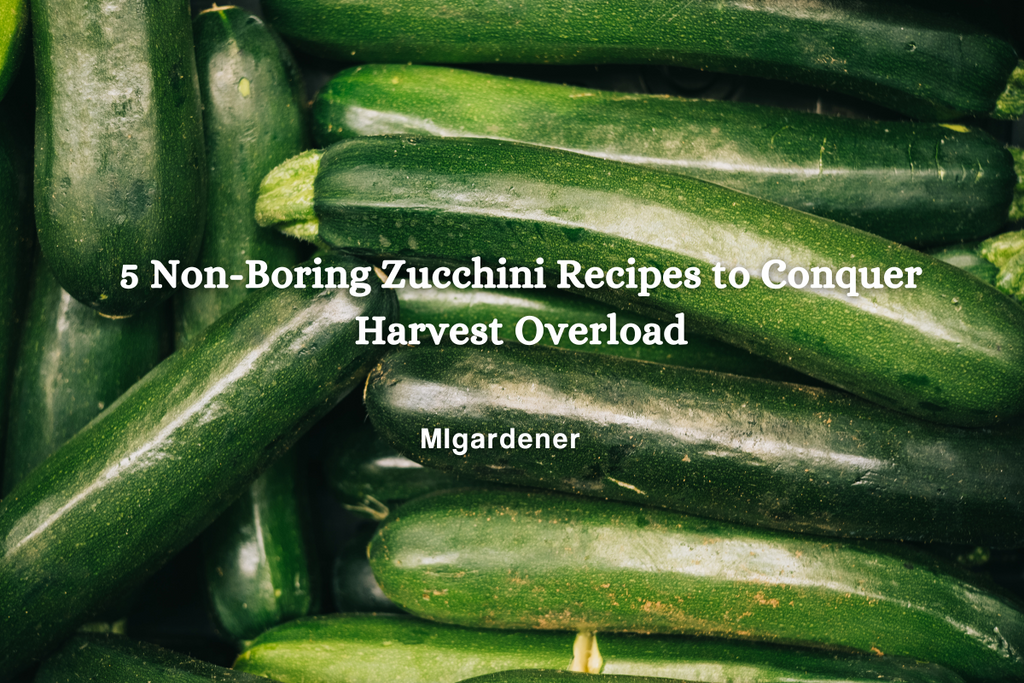 5 Non-Boring Zucchini Recipes To Conquer Harvest Overload
It's Zucchini-pocolypse season again! Right now, in my garden, it seems like every day, multiple zucchinis and summer squash appear out of nowhere. I hate wasting perfectly good food, so I knew I had to act fast and get in the kitchen. Unfortunately, I know I can't be the only one; this is also the time of the summer where I have zucchini fatigue. I already feel like I've consumed so much zucchini this year, and I've exhausted traditional zucchini bread and roasted veggie recipes.
I'm on the search for a few go-to, truly unique, fun-to-eat recipes. I hope you enjoy this list! I've tried some of these out for myself, and I cannot wait to see how the rest taste.
by Claire Saffitz 'Dessert Person' on Youtube
Y'all. This recipe is a game-changer. Never has a scone been so completely craveable (or, as the Brits would say, "Moreish"). The zucchini in this recipe acts as the complete binding agent, making eggs unnecessary. There is nothing dry about these savory scones, and the gruyere can be swapped for sharp white cheddar to save some money. Pickowicz is a world-class pastry chef, and this episode of Claire Saffitz's "Dessert Person" will show you new techniques to build up your skills in the kitchen.
Photo by Food With Chetna on Youtube
For our British Bake-Off fans, miss Chetna from 2014's season has a youtube channel where she shares her favorite recipes! I love finding inspiration from people I look up to, and Chetna's kind outlook is wonderful to learn from. These pakoras need no added moisture from the addition of courgettes, and the added crunch of the onion and gram flour makes them a vegetarian, vegan, gluten-free dreamboat. Chetna recommends pairing them with her signature coriander chutney! I'm so hungry writing this blog post.
Photo by Nigella Lawson on Youtube
Nigella Lawson is known for her easy-to-make recipes that are effortlessly delicious. Enjoy her tutorial video by clicking the link and let this comforting soup add brightness to your day! Buttery yellow summer squash is the star of this recipe, and the warmth of turmeric is paired with the brightness of fresh lemon to create an unstoppable combination. I think the lack of steps is important here; this recipe is a fallback for any night where you can't bring yourself to cook an entire meal but still want to treat yourself to something comforting.
Photo by Half Baked Harvest
Hiding vegetables in sweet treats is my favorite superpower. This recipe is perfect for when you are just about 'over it' when it comes to zucchini flavor (no offense, but by the end of the summer . . .). These muffins are chocolate, chocolate, chocolate! The zucchini adds to the richness and moisture without stealing the show. This wonderful recipe is miraculously gluten-free and can be dairy-free if you swap the buttermilk with oat milk.
Photo from Ying Chen Blog
Savory breakfast is sorely underrated. One of our lovely followers on Instagram suggested her family's favorite Beijing-style pancakes. This recipe is one of a few that don't require you to squeeze out the excess liquid from the squash. Serve these pancakes piping hot with a savory dipping sauce that will have you wanting more. For dipping sauce (suggested by @xge on Instagram), mix Chinese black vinegar, Thai chili, and garlic.
I hope you leave this post inspired to be creative in the kitchen! I'd love to hear some of your creative zucchini recipes in the comments on Facebook, Instagram, and Pinterest!
_________________________________________________________________________
– Kaitlynn from MIgardener
Did you enjoy this post? MIgardener is passionate about sharing free gardening tips and information! If you are looking for inspiration in the garden, make sure to check out our Pinterest page. Check us out at MIgardener.com or on youtube, Instagram, and Facebook.
---